This page is devoted to promoting some players of mbira and other traditional lamellaphones. The artists are in no particular order other than grouping by instrument.
This page is no longer updated due to time constraints.
Check out ZimFest - An annual festival of Zimbabwean music in North America!
Players of Various Mbira from Zimbabwe & USA
Cosmas Magaya - mbira dza vadzimu

(born 1953)

Cosmas Magaya is leader of the mbira ensemble Mhuri yekwaMagaya. He is an internationally recognized mbira player and teacher. Cosmas has been an avid student and player of mbira dza vadzimu from the time he was eight. Mr. Magaya is a master of the instrument, having studied with many great players. He has performed with the renowned Mhuri yekwa Rwizi mbira group for over 25 years, participating with them in concert tours of Europe and the US. He was instrumental in the writing of Paul Berliner's The Soul of Mbira in the 1970s, and continues to work closely with Dr. Berliner as a consultant on Zimbabwean music. Located in Harare, Zimbabwe.

David Gweshe - munyonga

David Gweshe is a true pioneer of Zimbabwean music, constantly expanding the boundaries of traditional Shona music. Born in 1940, Sekuru Gweshe comes from the Budya people, a subgroup of the Kore-Kore. He is a descendant of Nohoreka, the first of the Budya people and the founder of the Shumba totem originating in Tanganyika (Tanzania). He began playing njari at age 14 and over time added keys to the njari in order to "play all the parts" of the music that he heard in his head. This is how Gweshe devised his own personal type of mbira, the Munyonga, featured on his CD Mhuri YekwaNohoreka. The songs on this recording are mainly played at religious functions in which the music is used to summon ancestral spirits. Gweshe is a spiritual leader who has an important message for the people of today.

Beauler Dyoko - mbira dza vadzimu

She is leader and featured singer with the popular contemporary mbira ensemble, The Black Souls, and has regularly been invited to perform a traditional song to open the Zimbabwean Parliament. She has also performed with Mhuri yekwa Rwizi/Soul of Mbira groups for many years in Zimbabwe and throughout the world.

Beauler is also a spirit medium, an herbalist, fashion designer, and teacher of traditional Shona cooking. Beauler is an active member of organizations promoting women musicians in Zimbabwe, and has written original songs in support of AIDS awareness and non-violence. She is the sole supporter of a large extended family of grandchildren, nieces and nephews in Zimbabwe.

Hungwe

Jennifer Kyker & Musekiwa Chingodza

- mbira dza vadzimu

Hungwe is the Zimbabwe/US mbira duo Musekiwa Chingodza and Jennifer Kyker. "Hungwe" is a type of bird important to the spirits in Zimbabwe. It is also the name for a black and white cloth worn by spirit mediums.

Jennifer Kyker began to play marimba in 1990 and mbira in 1992. She has lived and studied in Zimbabwe for over three years. Jennifer has performed with various artists in Zimbabwe and the United States, including Kudana Marimba Ensemble, the Chigamba family's group Mhembero, Wagogo, and Chris Berry and Panjea. With Musekiwa Chingodza, she released the CD Tsunga and also performed on Musekiwa's solo album Chingodza Budai Pachena. Jennifer has been teaching at Zimfest since 1995. She is currently working on a Ph.D. dissertation in ethnomusicology at the University of Pennsylvania.

Musekiwa Chingodza is a well-known Zimbabwean mbira and marimba player and teacher. He was born in Zimbabwe into a family of great mbira players in Mwangara village, Murewa, Zimbabwe in 1970. He began playing mbira at the age of five and is self-taught. Through listening to other gwenyambira, or great mbira players, he developed a strong attachment to and love for mbira music. He says, "Our music is both medicine and food, as mbira has the power to heal and to provide for people. Mbira pleases both the living and the dead." In 1991, Musekiwa was a key member of the band Panjea, founded by Chris Berry. He composed the hit song "Ganda" on Panjea's Zimbabwean album. Currently, Musekiwa teaches mbira at Prince Edward School in Harare. He is an excellent singer, dancer, drummer, and he plays both mbira dza vadzimu and nyunga nyunga. Following up on Tsunga, his widely acclaimed CD with Jennifer Kyker, Musekiwa released his CD VaChingodza Budai Pachena. His newest CD, Kutema Musasa, was released in 2005.

Newton Gwara - mbira dza vadzimu

Newton Gwara, often addressed by his totem name, Matemai, is one of the very finest mbira players alive today. With a silky voice often mistaken for a woman's because of it's purity, and an mbira playing style that is deceptively complex, Gwara can easily bring forth the ancestral spirits for any ceremony that he is called to play.

Growing up in the Mhondoro area and moving to Dande as an adult, Matemai is well versed in the many mbira styles in Zimbabwe, and is therefore called upon to play at a wide variety of ceremonies. He is often called to Dande to play mbira for Ambuya Nehanda, one of Zimbabwe's most powerful spirits.

At an early age, Matemai got very sick and was taken to a traditional healer. There, the healer told his family that he was destined to be a great mbira player and needed an mbira if his health was to return. Matemai told me how as a child in school, he would be sitting in class trying to concentrate. His teacher would be at the chalkboard writing, but everything the teacher wrote were lyrics to mbira songs! The teacher then turned around, but the teacher had an mbira for a head!

Newton Gwara is alsoone of the best builders of mbir in Zimbabwe today, particularly of tuned trio and duo sets of mbira dza vadzimu. In the photo above, he is holding one of his recent inventions; mbira dza vadzimu in Nyamaropa tuning with an extra keyboard in dongonda above the right manual.

Chaka Chawasarira - matepe & karimba

Chaka Chawasarira was born in Zimbabwe on September 11, 1941. His father was a master drummer and his mother was a dancer to the drum her husband played. When he was nine, Chawasarira lost both his parents and was brought up as an orphan in a Catholic mission. He carried on his father's gift for drumming, and in 1965 became a teacher at the mission school where he had been raised. There he met a matepe player named Mathias Chidavaenzi and was instantly drawn to the complexity and power of the matepe music.

Abraham Dumisani "Dumi" Maraire

- nyunga nyunga (karimba)

(born 1944 - died 1999)

Maraire taught from 1968 through 1972 at the University of Washington in Seattle, contributing to a flourishing of Zimbabwean music in the United States' Pacific Northwest that continues into the 21st century. He recorded some of the first recordings of Shona music in the West.

Paul Berliner - mbira dza vadzimu

American mbira player who wrote The Soul of Mbira: Music and Traditions of the Shona People of Zimbabwe, one of the 1st descriptive books on Shona mbira music in the 1970s. As a leading ethnomusicologist, he published several articles on Shona music and both his MA thesis and Ph.D. dissertation are on Shona music & mbira. He was a faculty member at Northwestern University in Illinois and now teaches at the John Hope Franklin Center for International and Interdisciplinary Studies at Duke University in North Carolina.

Sam Bvure - mbira dza vadzimu

One of Zimbabwe's very fine builders of mbira dza vadzimu. Sam makes mbira in a variety of tunings and also makes 15 and 19-lamellae karimba tuned in duo sets. See the Zambuko.com website for his instruments.

Gideon Musunge - mbira dza VaNdau

Sekuru Gora & Sekuru Chigamba

-mbira dza vadzimu

Sekuru ('Grandfather') Gora, born Thomas Wadharwa in 1937 and died March 10, 2002, was one of the most famous mbira players of all time. If you go to any corner of Zimbabwe and mention mbira, without fail Sekuru Gora's name will come up. As a child, Gora would constantly watch his grandfathers building and playing the mbira. When he was fourteen he picked up an mbira for the first time and, to everyone's amazement, was already able to play. Even at that early age he was called on to play at the mapira ceremony, where a homwe (spirit medium) becomes possessed by an ancestral spirit with the help of the mbira music. These ancestral spirits guide and protect their living descendants. Gora was a master at conveying a message in extremely witty and sometimes biting ways.

Joel Laviolette - mbira dza vadzimu & matepe

American player and builder of many types of very high quality mbira including mbira dza vadzimu, mbira dza VaNdau, njari, and karimba. Joel has researched many of the more rare types of mbira and has a record company called Mhumi Records that features CDs of many of those rare mbira types. Joel is the director of the marimba band Rattletree. Contact.

Sekuru Simon Mashoko - njari

Sekuru Simon Mashoko was a legend and was one of the first musicians to be recorded on the mbira. He plays the njari, a 29 key mbira with unison notes on the upper layer of keys. It is played with both thumbs and index fingers and often the thumbs will "strum" more than one key at once. He lived in Nyika and hs recently passed away.

Hakurotwi Mude - mbira dza vadzimu

Hakurotwi Mude was a deeply spiritual man and one of the most famous Shona singers until he passed away. He used to make his living in the city doing upholstery work for cars. He used to be the leader of a professional group of mbira players, and he used to perform in many contexts to invoke the spirits when they are needed. The passion and quality of his powerful performances put him in a league with other world-class vocalists. He is the subject of the video Urban and Rural Ceremonies with Hakurotwi Mude by Gei Zantzinger, Les Blank, and Dr. Andrew Tracey.
Solomon Murungu - mbira dza vadzimu

Shona mbira player now living in Massachusets. Solomon reguarly imports for sale many types of very high quality mbira dza vadzimu and karimba in various tunings from the best makers in Zimbabwe. His website mbira store is Zambuko.com.

Sheasby Matiure - karimba

One of the younger generation of Shona nyunga nyunga (karimba) players. As a graduate of Kwanongoma College of Music, he previously taught for some years at Seke Teacher Training College, just outside Harare. He has also acted as manager and artistic director of the Zimbabwe National Dance Company. In 1999, Sheasby was an artist in residence with the International Vocal Ensemble at Indiana University, where he subsequently graduated with an MA in Ethnomusicology. He is currently at IU finishing a Ph.D. in ethnomusicology. Sheasby is a highly respected musician, adept at teaching choral singing, marimba, mbira, and hosho. He has conducted workshops on the above in Sweden, Norway, Australia, and the United States. He is currently teaching and directing mbira and marimba ensembles at Indiana University.

Stella Rambisai Chiweshe - mbira dza vadzimu

Stella Rambisai Chiweshe is often called - Her Majesty - The Queen of Mbira Music from Zimbabwe. She is one of the first female mbira artists who gained an international reputation and has been honored with recognition in a music tradition that's been dominated by men.

She is one of the few musicians in Zimbabwe and Southern Africa who has been playing mbira for more than 35 years and has worked as a traditional mbira musician. When Zimbabwe was still an English colony, Stella secretly was recognized as an mbira player at forbidden ceremonies. Before the independence of Zimbabwe, mbira instruments had to be kept hidden because the colonial government had banned the instrument fearing its magical powers. After playing through the whole night at forbidden reunions, Stella then returned to her every-day-struggle of survival as a young girl within a colonial environment.

Stella Rambisai Chiweshe is nicknamed "Ambuya Chinyakare" (Grandmother of Traditional Music). She is a well respected and important woman in the international music circuit. She set an example for the rest of the women musicians in Zimbabwe. She released more than 20 singles of mbira music in Zimbabwe before independence. Her first single, "Kasahwa," went gold in 1975.

After Independence she was invited to become a member of the original National Dance Company of Zimbabwe, where she soon took the part of a leading mbira solo player, dancer and actress.
-mbira dza vadzimu & karimba

One of the top American mbira dza vadzimu players in the USA. Michael also sings many of the traditional Shona songs that mbira dza vadzimu accompany and has pioneered a new useage of the instrument in his ensemble BataMbira in which traditional Shona and Afro-Cuban musics are played simultaneously. His book Learning Mbira: A Beginning . . . (& several volumes of downloadable mbira TAB) is one of the best published pedagogical sources on mbira dza vadzimu for Western percussionists. Dr. Williams teaches at Winthrop University in South Carolina.

Forward Kwenda - mira dza vadzimu

He was born in the rural Buhera area of Zimbabwe, and as a boy, Forward excelled in traditional dance and recitation of ancient poetry. At the age of 10, he began to play ngoma (drums) and hosho (gourd rattles) for his mother's gombwe (rain-making) spirit. He was given the name "Forward" because of his curiosity about many subjects, enthusiastic involvement in many activities, and his singing for liberation war freedom fighters.

At an early age, Forward borrowed an mbira and, with no teacher other than occaisional radio programs, began to play on his own. In 1984, Kwenda moved to Zimbabwe's capital city of Harare and began to play mbira with other musicians. Within a year, he had formed his own mbira group and was making records and performing on national radio, as well as performing constantly at mapira ceremonies. During this period, he was informed by powerful rain-making spirits that he was to devote his life to playing mbira for their ceremonies. He was particularly known as the teenager for bringing the desired spirits to a ceremony by the end of the first song he played at a ceremony.

In 1985, Forward began playing in a unique complex style - much to the amazement of master mbira players two and three generations his senior. This style, considered in Shona culture to be "more ancient" because spirits prefer it, was first recorded in 1985 and 1986 by his American friend Glenn Makuna, who dubbed Kwenda "the Coltrane of mbira."

In 1997, Kwenda toured the US with Erica Azim, and recorded the Shanachie CD Svikiro: Meditations of an Mbira Master. 1n 1999, a transcendent field recording of Kwenda on a Zimbabwean mountaintop at sunset was included on Ellipsis Arts' Trance 3 CD. In February 2000, Kwenda performed at the Kennedy Center in Washington, DC toured North America 2000-2002.

Dan Pauli - electric mbira dza vadzimu

American mbira player and builder of acoustic and special stereo, solid body electric mbira dza vadzimu with extended ranges and tunings. Dan also builds and plays Shona marimbas.

Erica Azim - mbira dza vadzimu

The most well know American female player of mbira dza vadzimu. Erica has released several of her own recordings as well as many recordings of traditional Shona mbira players in all tunings. She hold regular workshops across the USA in teaching mbira. her website is Mbira.org.
Ephat Mujuru - mbira dza vadzimu

Ephat Mujuru was raised in a small village in Manicaland, near the Mozambiquan border, and taught to play the mbira by his grandfather, Muchatera Mujuru. Mujuru played all of Zimbabwe's five types of mbira, but his specialty is the popular mbira dzavadzimu. During the 1990s, Mujuru continued to travel and perform, and in the United States, he recorded two albums for Music of the World. Ancient Wisdom is a solo recording, and Shona Spirit is a collaboration with another of Shona music's great international ambassadors, Dumisani Maraire. Mujuru also recorded an ambitious, multi-track album he called Journey of the Spirit, which has yet to be released. Back in Zimbabwe, he also released successful pop albums with a revamped, electric version of Spirit of the People. In 1992, Mujuru's first electric album Hapana Mutorwa made its way to the top of the local charts, edging out Zimbabwe rumba kings Leonard Dembo and John Chibadura. But as conditions worsened in Zimbabwe, Mujuru traveled and recorded less. When he was last interviewed in March 2001, he had just finished two new recordings, one acoustic, traditional session, and one with a new band, members of a Zimbabwe rumba outfit called Eden Boys. In early September 2001, the electric album, Musiyano, was released and got a very positive review in The Daily News in Zimbabwe, under the heading, "Mujuru back with a bang." Mujuru seemed poised for a genuine comeback. But less than a month later, on October 5, he died in London, while traveling with his cousins Fradreck and Sam. He was on his way to begin a residency at Grinnell College in Indiana. Sadly, Ephat Mujuru suffered a massive heart attack that day in Gatwick Airport and died on his way to a hospital.

Garikayi Tirikoti - mbira dza vadzimu

Born into a traditional Shona family of the Mazumbakupa (Zebra) clan, Garikayi started playing the mbira Dzavadzimu at the age of 4. By the age of 7 he was already a well regarded performer at Biras (all-night ceremonies in which mbiras are played to call upon the spirits for healing, help, or guidance). Garikayi has a very distinctive style and is considered to be an innovator of mbira music. He created his own mbira style after one of his ancestral spirits visited him in a dream. He is known for playing a variety of sizes of mbira in tuned sets so that his ensemble is a true mbira orchestra. He is also a well respected builder of mbira.
Ngoni Makombe - mbira dza vadzimu

(born c. 1970 - died 2004)

Ngoni Makombe is a less known by name, but his artistry on the Shona mbira dza vadzimu can be heard on many recordings along with his brother, Bezil Makombe, by Thomas Mapfumo and the Blacks Unlimited since 1988, in the early period of the band when they first incorporated mbira as a permanent fixture of the ensemble.

Ngoni was born in Seke, south of Harare, possibly in 1970. His father died when he was young. His mother struggled to care for a large family in their rural home where they grow maize and keep animals. Ngoni and his brother Bezil played mbira ceremonies in and around Seke, and this is how they came to the attention of Thomas Mapfumo. Bezil Makombe was the first to join the band, and Ngoni Makombe soon followed. Both brothers made an enormous difference, both enriching the sound of the band and providing raw material for songs that became Blacks Unlimited classics.

Kuridza Mbira Project - mbira dza vadzimu

Mbira DzeNharira - mbira dza vadzimu

Mbira DzeNharira is a seven piece mbira group that plays the "mbira orchestra" made popular by Garikai Tirikoti. Lead by Wilferd MaAfrica and Tongerai Bangure, they are a musical powerhouse that has made them the only traditional mbira group to reach the ZBC number one slot on the popular music charts. Their tight harmonies and singing about modern issues as they relate to the spirit have touched many of the younger generation in Zimbabwe and helped vitalize the mbira scene for everyone.

Chiwoniso Maraire

- nyunga nyunga (karimba) & mbira dza vadzimu

American born Shona singer and player of nyunga nyunga and mbira dza vadzimu and daughter of the great Shona musician Dumisani "Dumi" Maraire. She is known for mixing elements of hip hop with Shona music and a seamless mix of Shona and English singing/lyrics in her performances. Located in Zimbabwe.
Pachi Pamwe - mbira dza vadzimu

American band featuring mbira dza vadzimu players Eric Miller and Bud Cohen who write original songs with mbira, guitar, trumpet, and drumset accompaniment.

Mondreck Muchena - mbira dza vadzimu

(born c. 1939 - died 1995)

See the Dandemutande site for more on Mondreck Muchena.
Fradreck Mujuru - mbira dza vadzimu

One of the great Shona mbira dza vadzimu players and builders in Zimbabwe and cousin of Ephat Mujuru. Fradreck Mujuru, of the Maungwe Clan, was born October 31, 1955, in Dewedzo, Rusape, Zimbabwe. At the age of eight, Fradreck pestered Joseph Chidemo to teach him how to play. In 1972, Fradreck was accepted into the prestigious circle of mbira musicians at Dambatsoko who played for Muchatera. Among them were Ephat, Fungai, Samuel, Munyaradzi, Komboni, Musekiwa and Killian Mujuru; Fradreck and Cletos Manjengwa and Charles Mutwira. He is one of the mbira players that kept the tradition going during the later years of the British occupation right up to independence.

Tute Chigamba - mbira dza vadzimu

A great Shona mbira dza vadzimu player and maker known for his playing in gandanga tuning. He was one of Sekuru Gora's students.

Zivinai Kumbula - mbira dza VaNdau

Chartwell Shorayi Dutiro - mbira dza vadzimu

Shona mbira dza vadzimu player who was one of the first mbira players with Thomas Mapfumo and the Blacks Unlimited in 1986. He is currently based in England where he performs with the ensemble Spirit Talk Mbira.
Kunzwana Mbira Group

- mbira dza vadzimu

Judith Juma and Rhoda Dzomba have been performing together as Kunzwana Mbira Group in Zimbabwe since 1983. They became popular through their performances at traditional ceremonies, and have just begun to reach a wider audience. Kunzwana Mbira Group is special because it is rare to find two women with such an exceptional talent who have bonded to perform traditional mbira music. Kunzwana Mbira Group recently expanded in 1998 with Judith Juma's children who have grown up inspired by the traditional mbira music. Her sons Dingiswayo and Dingani, with her daughter Spiwe, alternate playing shakers, mbira, dancing, and singing during performance. Kunzwana Mbira Group CD.

Mashozhera Mbira Group - mbira dza vadzimu

Victor Matanga, the leader of Mashozhera Mbira Group, began playing the mbira at the age of 11, and quickly became one of the most sought after players in the Chihota/Nyandoro area. This group highlights how mbira is dance music! The group now all live at a commercial farm outside of Harare and are usually playing ceremonies during the weekend.
Chris Berry & Pangea - mbira dza vadzimu

American mbira dza vadzimu player and pop songwriter who fronts the band Pangea (Ben Sands is another mbira player that used to play with this group). Chris moved to Zimbabwe and studied mbira with Monderek Muchena for 10 years and became a successful pop artist in South Africa. He also studied with Congolese drummer & likembe player Titos Sompa. Chris is now located in New York and is a very successful songwriter and tours all over with his band.
ChiSanza Players from Mozambique
Simeos John Pemba - ChiSanza

The ChiSanza is similar to the nyunga-nyunga, but has 22 keys (instead of 15). It is played with just the thumbs, held against a small goard with an animal hide attached to it. There is a stick that props the body of the ChiSanza against the animal skin, turning it into a small soundboard to amplify the sound. Even though only playing with two fingers, John Pemba can easily play three or four simultaneous melodic lines as well as singing. Also, due to the extra notes, listeners may notice the similarity to the repertoire of the larger mbira of Zimbabwe.
Ilimba & Chirimba Players from Tanzania
Hukewe Ubi Zawose - ilimba & chirimba

(born 1938/1940 - died 2003)

Dr. Hukwe Ubi Zawose grew up as a cattle farmer and was a member of the Wagogo people in Tanzania. Without any formal education besides a few days in a mission school, as a singer his voice stood apart from others. He traveled far leaving legends of his astonishing voice everywhere he went and learned to play ilimba (giant lamellophone), chrimba (smaller lamellophone), izeze (traditional violin), filimbi (traditional flute), and nguga (ankle bells). He also began to modify some of his instruments, and to write and perform his own compositions along with the traditional story-based songs and the political celebration songs of his culture. Fantastic stories about his musical abilities were believed throughout Tanzania includsing that Zawose is an immortal, or a divine creature; and that Zawose's voice possessed magical healing powers. Some of the myths about his voice may have to do with him being one of the few singers in continental Africa that employ the technique of overtone or throat singing in which a single performer can produce multiple pitches simultaneously with the voice.

In response to these rumors, Zawose created a grand persona. When performing on stage, he and his band began to don elaborate masks and costumes. Throughout the 1970s and 1980s, Zawose and his band performed all over Tanzania. In 1991, he recorded with the group Tatunane on the CD Afrobrazz. In 1996, the first Zawose album available in the West was released. Chibite (on the Real World label), is a mix of Zawose's own songs and traditional Tanzanian compositions.

In reality, Hukwe Zawose lived a traditional Tanzanian life with his 7 wives and 40 children until his Aids-related death in 2003. During his lifetime, he was awarded an honorary doctorate in music from the Finnish Sibelius Academy.

Charles Zawose -ilimba & chirimba

(born 1970 - died 2004)

A talented Tanzanian ilimba player who worked with his uncle Hukwe Ubi Zawose until his tragic death in 2004. Charles Zawose was initially headed for a simple life, farming the arid country surrounding the village of Wakili, near Dodoma in central Tanzania. Around the time of his birth in 1970, Hukwe Zawose had moved to the coastal town of Bagamoyo, where he founded the celebrated College of Performing Arts, later touring internationally with his colleagues Dickson Mkwama and Lubeleje Chiute as the Master Musicians of Tanzania. With the death of his uncle's 2 closest musicians, Charles moved to Bagamoyo in the early 1990s and began a partnership with Hukwe, who chose him as his gifted protege, above even his own sons.

Charles Zawose would usually accompany his uncle's extraordinary five-octave voice with his own beautiful vocal harmonies, as well as playing the ilimbaand the izeze. Dressed in extravagant costumes made from goatskins and porcupine quills, with ostrich feather head-dresses and nguga ankle bells, the pair were a regular fixture at Womad festivals in Britain in the late 1990s, charming crowds with their humorous and theatrical interplay. They reached an even bigger audience opening for Peter Gabriel, on his Growing Up tours of 2002-2003.

Charles Zawose made several CDs with Hukwe Zawose, including Chibite (1996) and Assembly (2001), the latter album a daring collaboration with the Canadian producer and musician Michael Brook. In 2002, they released the Womad Select CD Mkuki Wa Roho (A Spear to the Soul), the first to feature one of Charles's compositions; "Tumieni Ujuzi" ("Use the talent God has given you"), which has been interpreted as a rebuff to members of the Zawose clan passed over in favour of Charles.

A more experimental solo album which Charles Zawose had begun recording remains uncompleted.

Charles Zawose, singer and musician: born Wakili, Tanzania 3 July 1970; five times married (one son, two daughters); died Stockholm, Sweden 24 October 2004 of Aids-related causes. Director John Simpson's documentary film Lay Down Your Hearts about the Zawose Family's musical dynasty.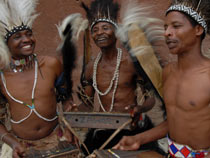 The Zawose Family - ilimba & chirimba
Surviving members fo the families of Hukwe Ubi Zawose and Charles Zawose now carry on the musical legacy started by Hukwe and Charles. They all play ilimba and other traditional Wagogo instruments and sing in a style reminiscent of Hukwe Zawose. In 2002, John Simpson made a documentary film on the Zawose Family. The label Real World has released their debut CD called Things Fall From The Baobob Tree in 2007.
Likembe Players from Democratic Republic of Congo
Antoine Moundanda of Likembé Géant

-likembe

Formed by Antoine Moundanda, Likembé Géant is one of the great traditional bands from the Democratic Republic of Congo. They play a traditional style of music that, to Western ears, has the sounds of Cuban rhumba.

Antoine Moundanda

-likemba (also known as kisansi)

International recording artist and master likembe/kisansi player, Moundanda has toured throughout China, Russia, Africa and Western Europe, spreading his traditional and contemporary music from the heart of the Congo. His rhumba, salsa, blues and traditional soukous styles have ignited audiences from Havanna to Brazzaville and back to Congo Square.

Mawangu Mingiedi

-electric likembe

In the 1970s, Angolan musician Mawangu Mingiedi, or simply Papa Mingiedi to his fans, took his likembe to Kinshasa. His son, Aharon Natondo, says his father was an instant hit on the streets of Congo's (Zaïre) capital.

Papa Mingiedi formed a band, mostly made up of his sons and nephews, and recorded an LP with a French engineer. The then-nameless band got some play on the radio in France and caught the ear of Brussels music producer Vincent Kenis. Over the next 20 years, Kenis sought the unnamed Congolese band he had heard once. Kenis finally found the group in 2000 after three trips to Kinshasa in search of it. This group became Konono No. 1.

Muyamba Nyunyi

-bass likembe

Muyamba Nyunyi and Kabongo Tshisense (Masanka Sankayi's two front-men) have been together as a duet since the Seventies. Dancers, singers, story-tellers, their wry sense of humor comes out best in Tshiluba but also in French : check the CD Congotronics 2 for Kabongo's very own rendition of a XVII century fable by Jean de la Fontaine. Muyamba is also an excellent bass likembe player.

Papa Kourand - likembe

A close friend and associate of Antoine Moundanda, Papa Kourand has toured with the Likembé Géant band for more than twenty years.
Papa Titos Sompa - likembe

One of the first Congolese musicians to come to the USA. Titos is from Brazzaville in the Democratic Republic of Congo, and is a great likembe player, dancer, drummer, and singer and has recorded with many of the great American jazz musicians of the recent past. His website is Mbongi Village.com.

Konono No. 1 - electric likembe

Formed by Mawangu Mingiedi, Konono No. 1 is an amzing group from Kinshasa in the Democratic Republic of Congo. They play electrified likembe and home-made percussion from found objects. Their sound system is home-made as well. Their sound features a lot of distortion and this group has become a curiosity among rock musicians in Europe where they recently tour. This group has several CDs out and has just recorded with Bjork. Their recordings are availablke at the Crammed Disc website.
Sanza & Kalimba Players from Cameroon
Pierre Didy Tchakounté - sanza

Pierre Didy Tchakounté is a Cameroonian singer, guitarist, and sanza performer who popularized the mangambeu urban music style in the 1970s-1980s in Cameroon. He recorded under his own name and as Pierre Didy Tchakounté and The Black Tulips. His ensemble played mangambeu and a kind of 1970s Afro-funk/disco. He played both the traditional sanza with wooden lamellae and a more modern one with metal lamellae. He contributed music to the soundtrack of the film Suicides in 1983. He now lives and performs mostly in Paris, France.

Francis Bebey - sanza

(born 1929 - died 2001)

Cameroonian multi-instrumentalist who plays a generic sanza to accompany himself while singing original songs. Beybey is known for doing his own music but has synthesized a variety of traditional African musical instruments and styles including pygmy hindewhu, Central African Rebulic sanza, Ghanaian highlife palmwine guitar, among others. His 1982 recording African Sanza is a set of original songs set to sanza accompaniment.
Njacko Backo - kalimba

Cameroonian singer and percussionist who plays kalimbas in his band Kalimba Kalimba in Toronto, Ontario, Canada. His band plays a pan-African influenced urban music and has been in Canada since 1990. Njacko also plays with another group known as The Toumkak Drummers.
Kongoma Players from Sierra Leone

A pair of Temne kongoma players from Suctarr in Sierra Leone. These instruments are used in a traditional musical style known as kagbe. The players are Bai Bangura (on the left) and Mohamed Kargboh (on the right).

Kalimba Player, originally from Uganda

Samite Mulondo - kalimba

Samite plays a generic lamellophone he calls kalimba. He was born in Uganda (where lamellophones called kadongo are played) but was raised in Kenya. Samite is known for performng his own music in which he often accompanies himself on a generic kalimba. Located in New York.

Rhumba Box Player from Jamaica

James Convery - rhumba box

Rhumba box player with the Jamaican mento band The Triangles in the 1960s.

Kondi Player from Sierra Leone

Sorie "Kondi" Koroma was born in the village of Mangiloko, near the city of Makeni in Sierra Leone, West Africa around the year 1968. His actual birthdate is not certain because there is no official record of his birth. His country ranks as one of the three poorest countries in the world in terms of infant mortality, life expectancy, per capita income, health care, and infrastructure. He never went to school but began to play the kondi, a traditional lamellaphone of Sierra Leone as a teenager. It was apparent early on that he had a special talent for music, and by 1984 he started earning some small money by playing at ceremonies and travelling to nearby villages.

Being born blind in such a poor country and never receiving any formal education would seem like enough hardship by itself. But then his life was uprooted in 1996 when civil war forced him to leave his home and seek refuge in Freetown. Despite the ongoing war, he began recording his first album there in 1998, and finished it after 4 months. But on January 6, 1999, the rebels staged a brutal assault on Freetown called Operation No Living Thing. Almost all the city's residents fled to the bush. Sorie was abandoned, forced to hide inside his house for 5 days while much of the city was looted and burned down. When the dust settled, the master tapes had been lost and his career plans derailed. He decided to remain in the capital city, in a neighborhood called Fourah Bay, renting a one-room shack perched on a dangerously steep hill (dangerous, that is, even for a sighted person).

Having lost his chance to commercially release a cassette, Sorie "Kondi" made a name for himself (literally, he adopted the name of his instrument as his surname) as a street musician. Unfortunately, this profession doesn't bring in much money in a country where almost everybody is living in poverty. But a trip in 2006 to the Lungi region, across the bay from Freetown would provide Mr. Kondi with a golden opportunity to put his career back on track.

By chance, an American recording engineer named spotted him playing his kondi and was immediately impressed. The next day, he was asked to be included in the anthology of Sierra Leonean music he was working on, and they arranged to record a live performance near the chief's compound in Tintafor. In February 2007, a prominent Tintafor businessman by the name of Ishmael Sesay heard this recording and liked it so much that he decided to offer Mr. Kondi the chance to immediately release it inside Sierra Leone. Mr. Kondi was thrilled with the offer but said that he thought an album recorded in a studio with other instruments and backup vocals would be more appealing to the local market. Without Money, No Family was released in July 2007 by the Cassette Seller's Association of Sierra Leone. That same month, Sorie was also featuredon the original live recording as Music of Sierra Leone, Vol. 3 on the EarthCDs label.

Sorie Kondi is a musical genius and a cultural treasure, able to sing in four different languages (Loko, his mother tongue, Temne, Krio, and English). He is also an innovator; he taught himself how to play kondi at the age of 15, later electrified it, and developed a unique style of playing it. Hopefully with this second chance at a recording career, he will finally earn the recognition and support he deserves.
Lamellophone Builders:
David Bellinger & eKalimba
Patrick Hadley, Bill Wesley & Array Mbira
Hugh Tracey Kalimbas & Kalimba Magic